Eeva-Kaisa Jakkila
& Jussi Valtakari
Taivalkoski, Putaanmutka Island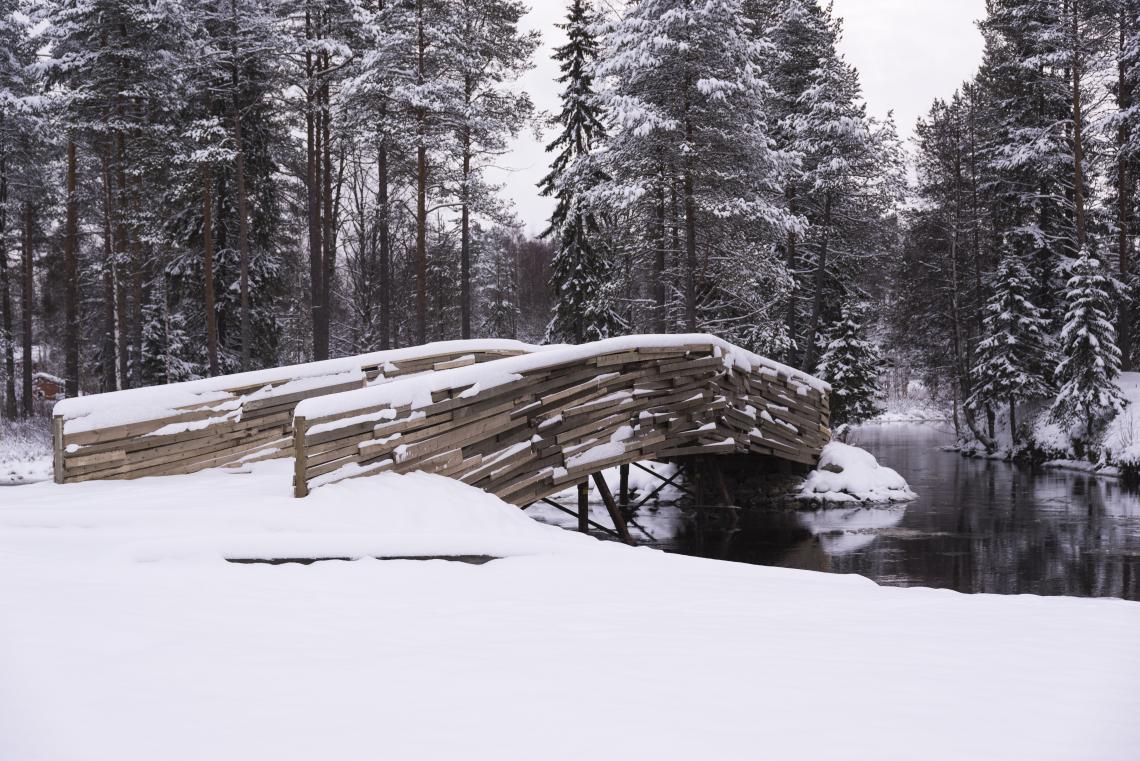 The symbol of the bridge is often used to signify the coming together of two geographic zones or two different ways of thinking. In the village of Taivalkoski, the artist duo Eeva-Kaisa Jakkila and Jussi Valtakari have constructed a wooden bridge which reconnects the people of the town to a small island allowing its inhabitants to experience a wild and rugged landscape which is on the whole unshaped by human hands. Such an intervention serves to change the life of community, broadening its horizons, whilst linking it to nature. It is hoped that the island will become a place for walking and quiet excursions, returning it to the village after decades in which it has been cut off from them. As the artist couple explains, "There used to be a bridge to the island and a cafe/kiosk run by the war veterans. Then one spring the ice took the bridge along. Ever since there has been talk in town: 'There was the nice bridge and the kiosk. We should rebuild them.'" Now, with the bridge rebuilt, it is up to th public to define the use of the island.
Aside from providing a valuable public service the bridge represents the flow of water and also of natural energy through the village as the river forms part of the work. The artists consider the river to be a 'nature made work of landscape art in itself' which has interacted with the public for millennia and as such have dedicated their work to it, as a place from which to contemplate nature and its natural currents of energy. It is hope that the bridge will now open new pathways on the island, which is otherwise only reachable by boat. The artists themselves, who are a married couple, recall times spent together there in the café and on walks. It is envisaged that small parties and events could again be held on the island restoring it to its former role as a place for meeting.
The bridge combines the work of wife and husband duo Eeva-Kaisa Jakkila and Jussi Valtakari who respectively focus on landscape and the human figure, both maintaining a strong interest in the individual human and its interaction with its environment, as well as with other people. Whilst their practice is primarily painting, drawing and sculpture based, the bridge allows them to physically engage both locals and visitors to the village of Taivalkoski as they engage with the geography of the town, traversing bridge dedicated to its river the memory of its past as a centre for the timber industry.
The design of the bridge itself makes references both to the local habitat and to the history of the river which it traverses. The area had a sawmill and nearly all the inhabitants were touched in some way by the timber industry. The river was used for the transport of timber and the artists have made reference to the timber jams which sometimes occurred in the dense layering of timber along the bridges sides. ×