2015
Cor Ten steel, stainless steel, concrete
Raahe, Lapaluoto Fishing Harbour, Helmilaiturintie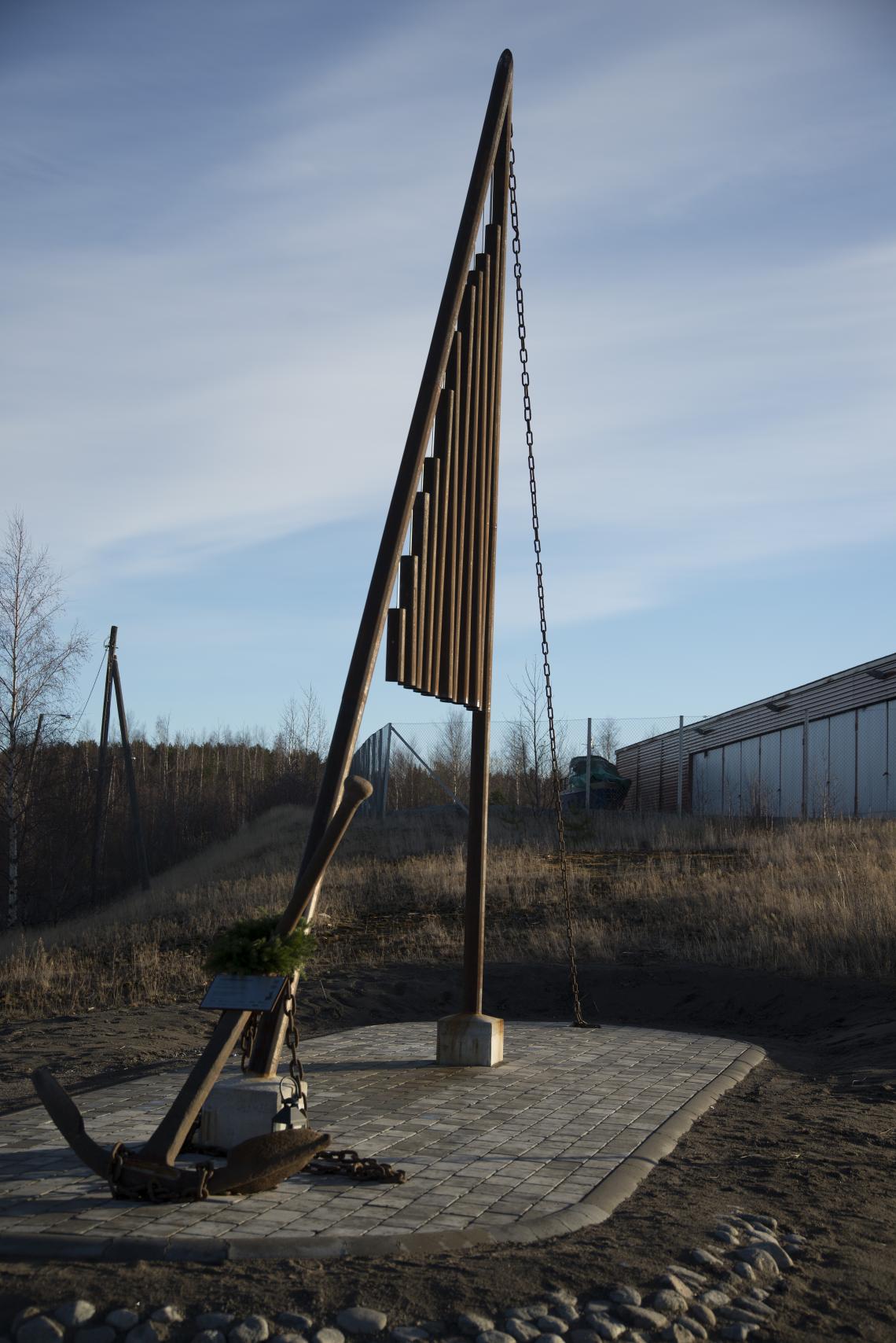 With the work Kaupungin ääni - The Sound of the City, artist Minna Jatkola has constructed a number of stainless steel tubes which channel the sounds of the city like huge wind chime. The large cylindrical work is made in varying dimensions. Placed in the city of Raahe the sound pieces encourage local and visitors to reconsider the way in which natural and manmade forms interact in creating a rich soundscape. This consideration of the industrial meeting nature in this crucial harbor town is strengthened by the involvement of long standing industrial partners who - in handling the raw materials and creating the separate parts of the work (such as tubes, stand parts, cylinders) - combine their scientific knowledge with the creative skill of the artist.
Above all, of the many associations which can be made between the work and the city both historically and through the many collaborations between Minna Jatkola and Raahe's inhabitants, two themes stand out: wind and steel, together with the many associations which they evoke. These two aspects are linked by the history of Raahe - located on the shore of the Gulf of Bothnia - in its navigation and industry, the sail boats used for transportation having been moved by the wind. These two elements also evoke the opposing yet complementary phenomena of movement and stillness: Movement is defined by stillness and vice versa. It is the combination of the movement of the wind and the stillness of the steel structures which creates sound as this familiar instrument, made on a grand scale, gives voice to both nature and industry in harmony. The work also conveys a sense of fleetingness not often associated with steel as the fast moving wind creates temporary symphonies. Such a thought might evoke reflection on the changing nature of the town which once had the largest fleet of sailing ships in Finland (60 in total) but which later became a site of industry rather than a nautical centre, home to the Rautaruukki steel mill.
Minna Jatkola, born in Raahe, is best known for large scale brightly colored paintings. As such, The Sound of the City project, which features no decorative elements on the steel structures themselves presents, seems a radical departure. However, there is also a sense of continuity as Jatkola tends to create cityscapes and landscapes featuring often frenzied movement against the calmer backdrop of a natural or manmade environment.
Raahe has a strong history deeply rooted in sail ships, the steel industry and its schools. Jatkola puts all of these aspects together in the form of a sculpture made from steel, located in the harbor and realized in collaboration with the local schools and companies.
The sound created by the work helps the 'viewer' us to experience ourselves as part of our environment and to be an element within nature. In this way the work is seen as participatory, collective and experimental.